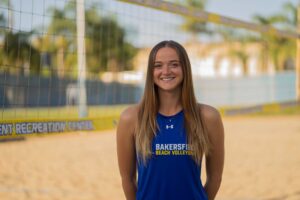 Alanna was born and raised in Orange County, California.  She started her volleyball career playing indoor at Club H, and every summer from the time she was eleven would play beach volleyball.
At seventeen and a junior at Huntington Beach High School, she tore her labrum almost completely off the bone and needed surgery.  Recovery took her out of recruitment and volleyball completely for about a year.
When she felt ready to go back to playing she was a freshman in community college and decided to redshirt her first beach season.
This was the year covid first hit, so she didn't get to play that year in 2020, or the following year in 2021, because the conference that OCC is in was not allowing athletes a full season still.
However, last season in 2022, she was able to make her college beach volleyball debut, I won the SoCal Championship with my partner, and got a scholarship to play at CSUB.
She loves the sport of volleyball indoors and outdoors, and her favorite pastime is to be doing something outdoors with her friends.  She loves hiking, swimming, and exploring new places.
She also loves working with kids and coaching is a great outlet for her to share her knowledge of volleyball and love for kids.  She has been coaching kids, teens, and adults in various clinics, summer camps, and teams on volleyball clubs.
A fun fact about her is that she has a pet bunny who's name is Thumper.